Coaches
This page brings together resources for coaches.
Once approved as a coach, an assistant coach, a team administrator or a referee, you need to visit AYSO's national online registration program, eAYSO, and "pre-register" as a volunteer. DO NOT USE eAYSO TO REGISTER A PLAYER. The eAYSO pre-registration form for volunteers is required by child protection policies implemented by AYSO and many other youth sports organizations.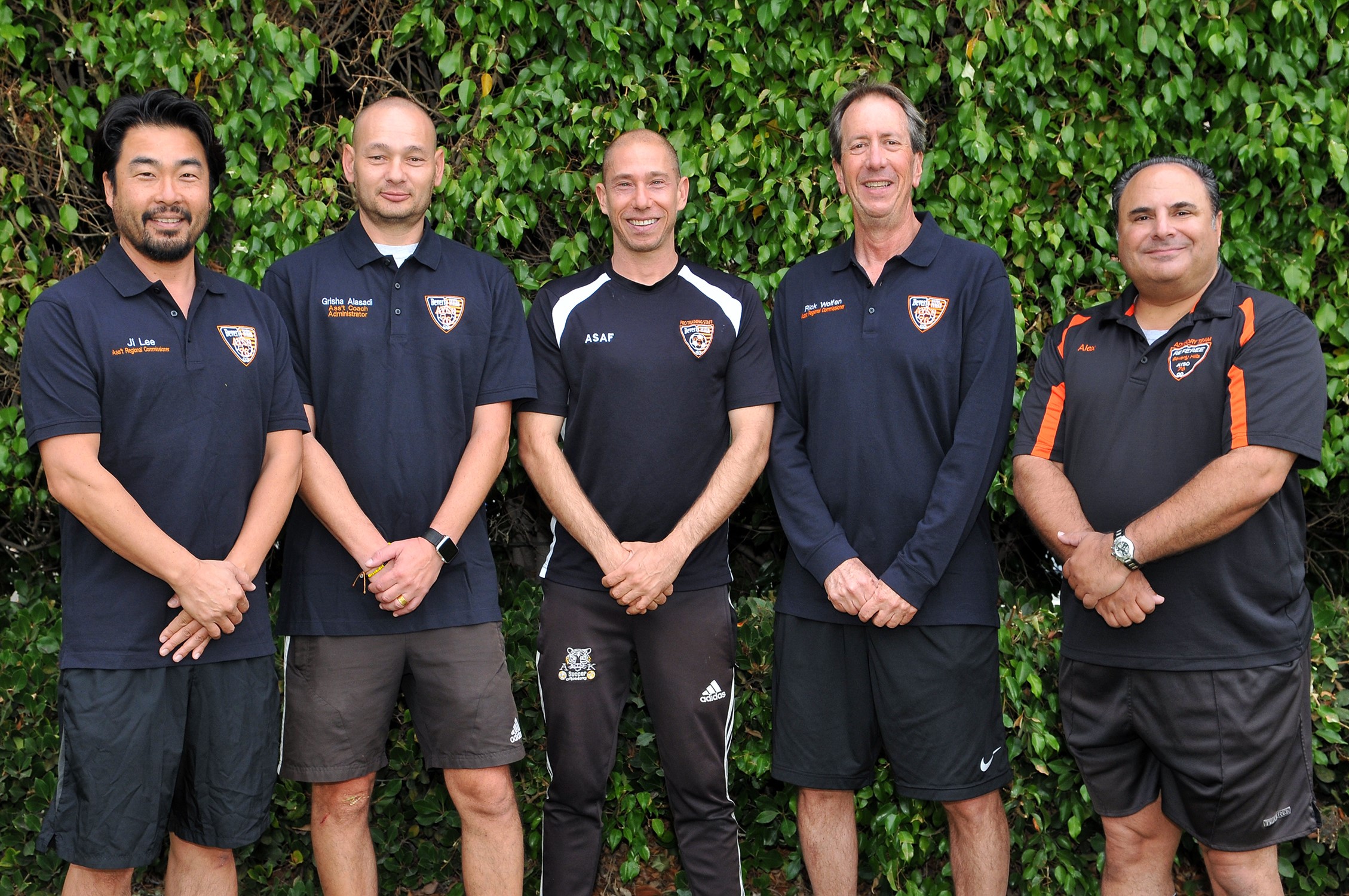 Coach Administrator Ji Lee, Grisha Alasadi, Technical Director Asaf Kolin, Assistant Regional Commissioner Rick Wolfen and Regional Commissioner Alex Grossman - October 2017
AYSO Area 1-P video on the buildout line.
Lots of

r

esources for coaches.
Weekly open practices for players U10 and above - Information to be posted soon
How We Make Up Teams and Deal With Requests: A guide for coaches and parents on our policies and guidelines for creating teams at various age groups. In short: We take requests (although we do not guarantee honoring them) until players reach U10. In U10 and above - no requests at all will be considered except for age-appropriate siblings and children in living the same household to play together or to play separately. Let's be clear: Once a player reaches in U10, no, as in zero, requests will be considered. In U10 and above, teams are mostly made up through a blind draft, i.e., the division directors and/or coaches make up the teams and the coaches then pick their teams at random. Please see the requests page for more detail.
How Long Are the Games? The length of a game depends on the division.


Divi-
sion
Game Length
Substitutions
U19
90 minutes
8ths unless the coaches agree to quarters or free substitution in compliance with strict Area guidelines
U16
80 minutes
8ths unless the coaches agree to quarters
U14
70 minutes
Quarters
U12
60 minutes
Quarters
U10
50 minutes
Quarters
U8
40 minutes
Free substitution
U6
30 minutes
Free substitution
U5
20 minutes
Free substitution

We have a page to give parents and coaches information on Rainouts and Field Closures.
Words of Wisdom: Every so often, we come across some really good advice for coaches. When we do, we will post it.